Quebec - Day 3: Montmagny to Saint-Jean-Port-Joli (by bike)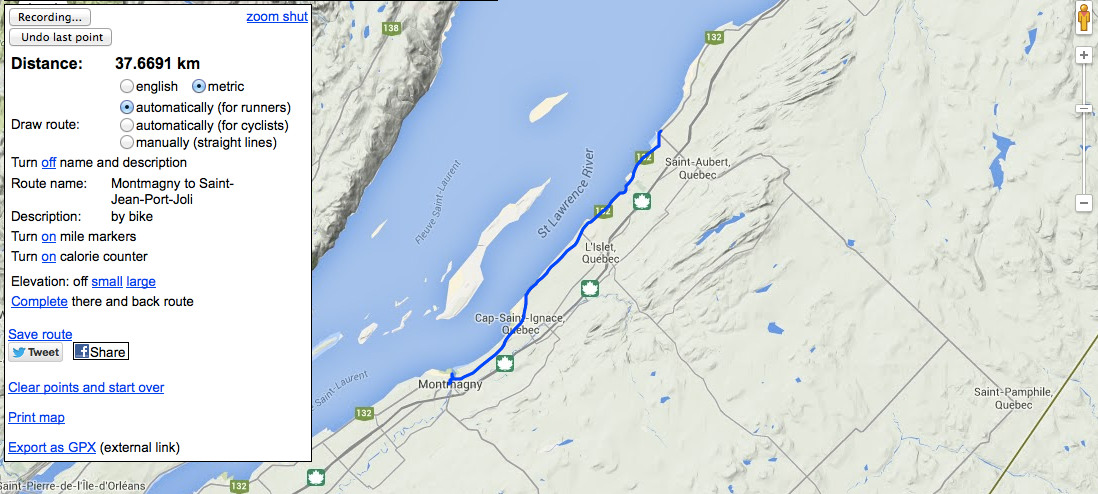 In the morning, we met up with Adam again, then set off from Montmagny along 132, our highway for most of the trip. This was the most annoying riding of the trip, since the route was a bit dull and we were close enough to Q.C. that there was still moderate traffic. However, the riding was easy and the weather great, so it's hard to complain too much.
| | | |
| --- | --- | --- |
| overly dark picture of the B&B courtyard (included mostly to for the B&B name sign) | wall and courtyard bar at Chez Octave | me, ready to set off from Montmagny |
| Dad, ready to set off from Montmagny | it contained this little waterfall across the Riviere du Sud... | and this view north across the river, from which you can see a number of little islands, and the mountains on the north side... |


We were curious about the Montmagny Bird Sanctuary, and stopped to take a look at it on our way out of town...

but not, as far as we could tell, any birds

when we first set off, we were riding along the highway through fields, a little way from the river

a small park near Cap-Saint-Ignace, where we stopped to look around

across the river (i think that's L'Isle-aux-Grues)

looking downriver from the park

a church in L'Islet, Notre-Dame-de-Bonsecours

interior of the church

one of a series of woodcarvings inside the church

stained glass window inside the church

metal roof of the church

painted metal roof on a cafe across the street from the church

another marshy river view

if we had stopped in at this museum, we might have found out who this guy is; presumably not Paul Bunyan

Dad inspecting his bike

i think the next few shots are from near the Trois-Saumons Bird Sanctuary

lighthouse (on the north tip of the isle of grues?)

trees and signage in the bird sanctuary

we decided to stop in at the Musee des Anciens Canadiens, a woodcarving museum near St-Jean-Port-Joli

cabinet in the woodcarving museum

pencil-shaving hair

you can't be surprised

the Beatles, circa 1964
---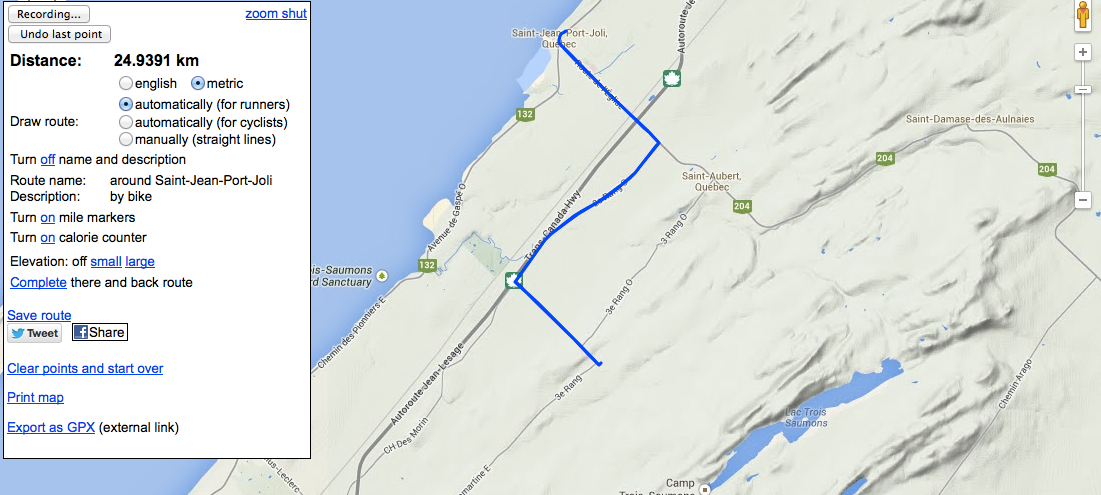 After lunch, we set out inland from St-Jean-Port-Joli, with the intention of visiting the Lac Trois Saumons (the lake of the three salmon). We turned back partway there because Dad's rental bike had misaligned brakes which we couldn't fix on the side of the road. Back in St-Jean-Port-Joli, we had an outdoor dinner by the port at Cafe Bistro (i drank a very nice ice cider) and watched the sunset over the river.

church with a painted metal roof, in the center of St-Jean-Port-Joli

crossing the tracks

hills to the south as we cross the the highway --- apparently, this is the northern edge of the Green Mountain range

our self-designed route took us through some pretty farmland

more farmland, at about the point where we turned around

along the river in St-Jean-Port-Joli

we considered giving up on the bikes and chartering a boat instead, but opted to keep going

masts reflected in the water

across the river past the pier

houses along the river

the church in the town center, from the docks

the beginning of sunset

someone having an active vacation

early sunset

sunset over the river

more sunset

stripes of color in the sky and water
---